I spent the morning in almost 90 degree heat, going to garage sales.  I don't consider myself to be a die-hard garage-saler (if that's a real term), but I try not to quit before my girlfriend…It was a rough morning to carry on…but, I did find some things I've been looking for, and that's always a treat.  I've been wanting (and this is completely random) American flag designed thin cotton ribbon.  I saw Lindsay make a card with some around the 4th of July, and I loved it…..At the same sale, they were selling a multi-pocketed box of scrapbooking ephemera.  The box had brads with alphabet letters on them, and circles with a monogram letter and individual letters made from metal.  Since I'm making my nephew and his fiance a family cookbook for their wedding, I thought it might be fun to monogram it, and now I have the monograms to do it.  I spent $1.25 on both items and was happy as a clam…Where in the world did that phrase originate and what could it possibly have meant when it originated.  I went to Phrases.org.uk and here's what they said.
What's the origin of the phrase 'As happy as a clam'?
Why would clams be happy? It has been suggested that open clams give the appearance of smiling. The derivation is more likely to come from the fuller version of the phrase, now rarely heard – 'as happy as a clam at high water'. Hide tide is when clams are free from the attentions of predators; surely the happiest of times in the bivalve mollusc world. The phrase originated in the north-eastern states of the USA in the early 19th century. The earliest citation that I can find is from a frontier memoir The Harpe's Head – A Legend of Kentucky, 1833:
"It never occurred to him to be discontented… He was as happy as a clam."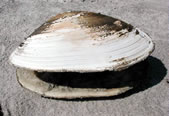 The first definitive record that I can find of the 'high water' version is from the US newspaper The Bangor Daily Whig And Courier, December 1841:
"Your correspondent has given an interesting, and, undoubtedly correct explanation of the expression: 'As happy as a clam at high water.'"
However, several biographies of General Robert E. Lee state that he used the expression 'as happy as a clam at high water' on more than one occasion. One such states that he included it in a letter that he wrote in 1833, which would pre-date the above by a few years. I can't find a record of the letter in question so the account is second-hand, but it is entirely plausible that Lee would have used the expression at that time.
The expression was well-enough known in the USA by the late 1840s for it to have been included in John Russell Bartlett's Dictionary Of Americanisms – A Glossary of Words And Phrases Usually Regarded As Peculiar To The United States, 1848:
"As happy as a clam at high water," is a very common expression in those parts of the coast of New England where clams are found.
Also in 1848, the Southern Literary Messenger from Richmond, Virginia expressed the opinion that the phrase "is familiar to everyone".
Huh…You learn something new every day.
Next, I like to buy perennial flowers whenever I see ones I don't have, as I like my garden to be as colorful and unique as possible.  I found some red bee balm that's really tall, because it was growing in the man's woods.  Whenever his wife thinks there are too many bee balm in their flower beds, he throws them (literally) into the woods beside their house, and they take root.  Considering this is my second attempt to grow them, I'm saying maybe he does something beside just tossing them there.  Any way, this is what they look like.   If they don't have to compete for sun, they don't get really tall, but the ones he sold me were at least 4-5 feet tall…..I paid a dollar for five plants and really hope they grow, as I've already planted them, yes, in 90 degree heat…It definitely wasn't pretty.
Lately, I've been buying snow shovels, as it seems like you never have a good one when you need it.  It's either cracked from heavy lifting, or doesn't have enough scoop to carry the snow away or is just plain worn out.  In the last two weeks, I've bought two snow shovels.  Maybe I'm like the fruit trees that produce a lot of fruit preceding a hard winter, and in my case, it's not fruit, but shovels.  I'm hoping I'm wrong, and when I saw Rich's look of exasperation with today's new shovel, I simply told him to go through his shovels, pick out the good ones, and we'll donate the rest.  Since I paid $2 total for two shovels, I don't think it's going to break the bank..
I also found a hair straightening tool for $2 to use with foamiran.  If you haven't seen me use the one I bought from Japan to straighten ribbon many years ago (that I personally consider a death trap), I felt it was time for an upgrade..Since I don't do well with the irons I have, I thought maybe a hair straightener like this, might help me to mold the foam.  I hope this works, and it was worth it to try for $2.  I bought a canister of brand new tennis balls for the dogs, and my day of garage sales was done.  I'm not sure if I'll be going out again tomorrow because the heat index is supposed to be around 100 degrees, and let's face it, I'm more of a 70 degree kind of girl.