I want to offer a cautionary tale about diamond paintings.  Most companies sell a standard size of 30 x 40 cm.  It sounds big…over 11 inches by almost 16 inches…but what they don't tell you is that's the size of the canvas…the entire canvas, including the part that surrounds the painting where they print the legend for the diamond colors…That wouldn't bother me, but I bought a painting on ebay that was (I think) 30 x 30 and was supposed to be little hedgehogs surrounded by dandelion seeds..Here's a photo of it.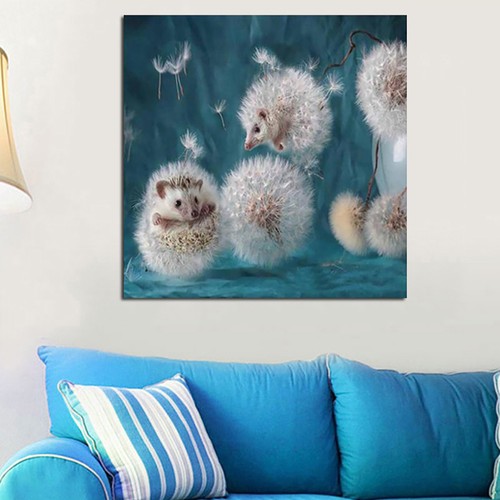 When you buy a small diamond painting, the image gets almost blurry, but in this case, I couldn't tell what the animals were supposed to be when I was almost finished.  The thing that was frustrating, was the fuzz that surrounded them almost looked like fur, and they appeared to be floating sheep if you looked at it closely.  A lot of companies will sell diamond paintings really inexpensively, but it's because of the size, and if you do buy a smaller 30 x 40 image, I recommend you pick out something that is simple and only has one focal image, so there's not a lot of detail that can be lost in sizing….Needless to say,  I didn't finish the painting and contacted the seller with photos, asking for a refund.  I just got a second email from him saying he'd refund the purchase price…His first offer was $1 and that didn't even cover postage…
I went back to the craft room today with the idea that you get so many extra diamonds with every project you do, that I want to start finding ways to use them.  I bought a small cloth change purse and made some flowers on it with leftover diamonds…You'll have to let me know if you think I should give up trying to use them, since the project looks a little like a child glued the diamonds to the purse…Fabric glue is not easy to work with, let's just leave it at that..