I'm sorry I haven't been updating the blog, but I haven't had a lot to say until today.  Yesterday, Rich and I went to friends to deliver the Mickey Mouse diamond painting I made for their new grandson.  His room is decorated in Disney, so Mickey will fit right in.   I was happy that our friends liked Mickey, as you never know when you give someone something crafty.  They might think it's tacky, but I figured a little boy would love it..at least for a little while.
When we got home, a box had been delivered from the Container Store.  I almost titled this blog post, "What's the hype about the Container Store?"  The box was big, just big enough to hold the bins I'd bought, without any packing materials.  The metal bins must have shifted in transit, as the side of the box was ripped, probably at least six inches long.  Because there were no packing materials inside, the bins were dented.  I thought I'd bought the photo below, but the rails weren't in the box.  I'm glad I didn't call the company until today, because the rails arrived in a separate box today.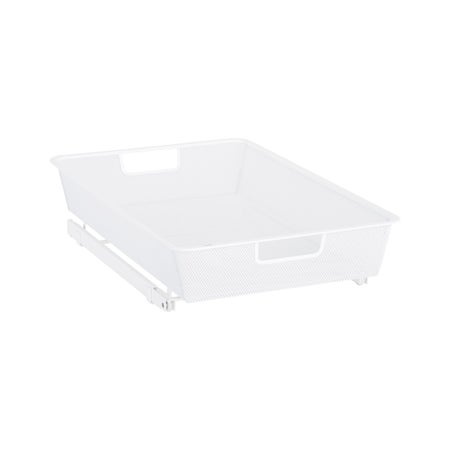 I hate when I've waited weeks to get something and then when it comes, it's damaged.  It's so frustrating.  I called the company, and their customer service area was too busy to take my call, so will call me back when they are available.  I guess I'll wait to see how long it takes.   I uploaded this post before they called back, and almost three hours later, they've finally called….so glad I didn't wait on hold all of that time, haha…
I wish I could say that I've re-organized my craft room since I last wrote, but the honest answer is this.  I'm overwhelmed by the idea of starting.  I have been re-organizing drawers in my desk, but can't force myself to begin the process of taking out storage units and replacing them with the new ones I have.  It's more than I feel like tackling right now.  (At least that's the answer I tell myself.)
As for crafts, I've been making cards, and videos, and have been watching videos to give me ideas for future videos.  I'd like to make some decorated bobby pins and different types of earrings, some made with paper and others with cardboard and plastic water bottles.   I'd like to find some beads I'd like, but I don't want to buy a long string of beads, when all I really need are two.  If you know anywhere I can buy a small quantity of beads, I'd appreciate knowing where, because I already have a lot from ones I've previously purchased, but they aren't what I'd like to use with projects going forward.
I normally would be working on gifts to donate for Christmas, but with Covid, I'm not sure if anyone is accepting cards or gifts.
I like making gifts for a local nursing home, but was recently told that nursing homes aren't accepting anything for patients because of Covid.  I understand their concerns, but think they could put donations somewhere away from the patients until they are deemed save, and then give them to patients.  It's made me wonder if they are allowing them to have their mail…If they don't allow patients to see family, I'd really hope they'd be able to figure out a way to allow them to get some gifts from the outside.
These are such frustrating times.  Our great niece (that I made the college album for) went back to college two weeks ago…Granted, she is going to a large university, but in two weeks, they've already had more than 500 Covid cases.  It's mind-boggling that so many students would put themselves at risk like that.  Of course they've shut down campus living, and our great niece is now home, to continue her education online.  It's such a shame, when people pay so much for a college education, to basically throw it away by engaging in Covid parties, or basically, not following the CDC guidelines.   And this is a school that made the students sign a contract, saying that they would abide by the CDC guidelines and not attend any social events.
When Rich and I went to college, we had a professor who would make you calculate the cost of sleeping through one class.  Let's just say the people who had the misfortune to fall asleep during one of his classes, never did so twice.  I don't think kids today have someone in their lives that is willing to show them just how much (in the form of lost face-to-face education) their actions are costing them.  Even if they did, I don't think the students would actually care.  Until it's time to start repaying their student loans, their education doesn't appear to have a cost to them.  It's especially sad for the students who really want to be on campus and have a full college experience, and abide by the CDC guidelines, as they're the ones who are most affected by campus shutdowns.