I think we've all gotten used to the idea that when you're doing any kind of decoupage, you'll be reaching for Mod Podge. But is it the best product ? I'm not sure. I exclusively used Mod Podge until I started to have some issues with it.
First of all, if you've ever used Mod Podge, you've probably accidentally glued the lid to the jar…it happens to the best of us. And with openings as large as those on the Mod Podge jars, they can be almost impossible to unglue. If this has ever happened to you, and you'd like an alternative product, I highly recommend Collage Pauge. Here's a photo of the bottle. It comes in gloss or matte, so it should work as an easy alternative. It's made by Aleene's and I found mine at Hobby Lobby.
Of course, Mod Podge comes in a wide variety of options. Here's a starter pack they offer. It includes matte, glossy, sparkle (with glitter), outdoor and paper. I've never tried paper or sparkle, but I have tried outdoor, and it is a total fail.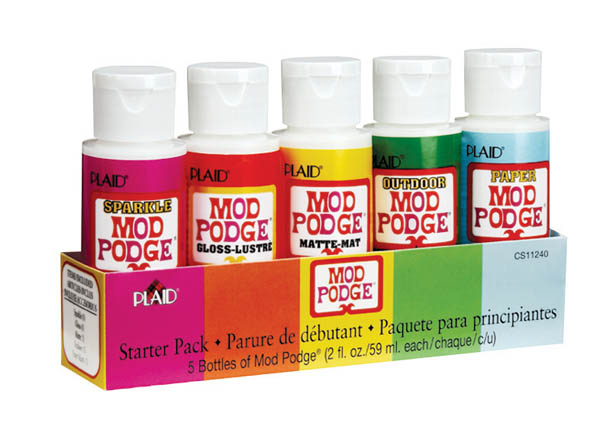 When using the outdoor version, you're required to use a sealant on your project after you've used Mod Podge. You also need to let the project cure for a month before sealing it and putting it outdoors. I did both steps before putting bird houses outside, and within a month, there was mold growing on them. And, the paper I'd Mod Podge'd had images on it, and they were really faded. It was so disappointing, I contacted Plaid, the makers of Mod Podge twice. The first time was earlier in the spring, and I was told they were closed due to Covid. I felt that was an acceptable answer at that time, then emailed them again late in the summer. I got no response to my second email. Needless to say, I don't recommend the outdoor version.
I've also tried the dishwasher safe version, and it is supposed to be waterproof, but I've never tested this. After reading what the company says about it, I should have used the dishwasher safe version for outdoor use.
Here's what the company says about dishwasher safe Mod Podge.
Questions About Dishwasher Safe Mod Podge
1. Isn't all Mod Podge dishwasher safe? Why do I need a special formula?
This is a common misconception. All Mod Podges are not dishwasher safe. The Outdoor formula is highly water-resistant but not waterproof. If you want to be able to wash a decoupaged item in the dishwasher, you need this formula!
If I'd only read this information BEFORE using Outdoor Mod Podge…darn it.
I've watched some YouTube videos on dishwasher safe Mod Podge, and the YouTubers I watched, all thought it performed well in their dishwashers. But, if you didn't know, you also need to cure projects made using this version, for a month before using it, just like Outdoor Mod Podge. I don't know about you, but for me, waiting a month to use something I've created, is longer than I'm willing to wait. I've heard you can avoid this step if you put your project in a low temperature oven for an hour, but I couldn't find anyone to verify that, so I don't advise you trying it.
I did find a video from Plaid, the makers of Mod Podge, where they describe all seventeen formulas of Mod Podge in case you are interested.
In the end, let's face it, Mod Podge has captured the market for decoupage. If you need a particular formula, they offer it. Whether it works for you or not, time will tell. I can only give you this advice. Don't be afraid to try other decoupage brands or alternative methods of sealing projects, as they might work better and cost you less in the long run.