Yesterday, Rich and I spent the day at the beach.  Not in direct sunlight….under an umbrella…I'm the color of a vampire, and with the medications I take for my arthritis, sunlight and Sandy don't mix.    As soon as we got to the beach, a woman approached us to do a back massage with fresh aloe vera leaves.  Rich has been complaining of his back and neck bothering him, so before he could say no, I told the lady we'd be thrilled to have her give him a massage.  She did a great job, and he said his neck and head stopped hurting when she was finished, so that's a good thing.
We took a picnic lunch to the beach, so we didn't have to leave when we were hungry.  I like to grocery shop as soon as we get to the island so we have foods and drinks we like in our room.  We bought a dozen eggs, and hadn't used any yet, so after a long hard day of reading on the beach, we decided to eat in our condo and have breakfast for dinner.  We had bacon and eggs and some pastries…..so you can't beat that.  After dinner I decided to work on a diamond painting front to a journal I bought on ebay.  It's supposed to look like this when it's done.  I really like how it looks so far and I haven't really spent more than an hour on it.  I think another hour and it'll be finished.  I think it's lovely and might give it as a gift or maybe use it for my next travel journal.  Anyway,  here's the link to it on ebay…it was a little under $5 and you get everything you need to complete it.  https://tinyurl.com/w5znr8t   If you've ever wanted to try diamond painting, this is a fun way to give it a try.  I find crafty things that are useful are more in keeping with my style, and things like the wall art don't really speak to me like this did.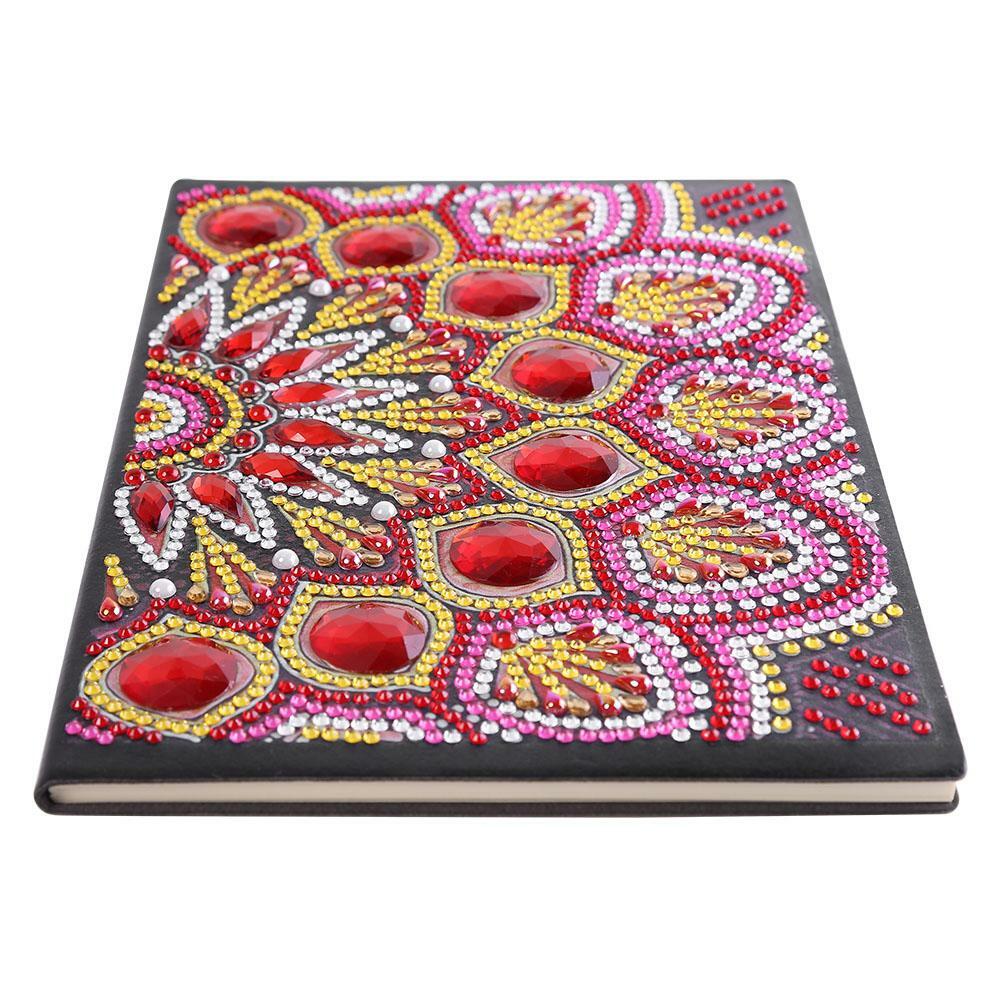 Today, we slept in, and then went shopping in Phillipsburg.  There's a restaurant there that we like to have lunch at, called Pasanggrahan Boutique Hotel, where they have an amazing Jamaican style fish and chips.  After lunch, we wandered around and found a couple of fun new t-shirts for Rich….he lives in Life is Good clothing, and it's about time some of those shirts were destroyed, so I'm encouraging him to replace them with something new and different.
It wasn't particularly hot, but for some reason I was sweating profusely the entire time we walked around.  It was gross…Rich said I looked like my head was going to explode, my face was so red.  (I know it's a pretty image, and add to that the rivulets of sweat running down the sides of my face and neck, I made for a lovely image.  Stores here hire people to try and convince you to come inside and look around.  One man was singing "Pretty Woman" to me and I told him it would have been more fitting if he was singing "Sweaty Woman" instead.  He thought that was hysterical…..I was just telling the truth.
We stopped at the grocery store on our way back to the condo because I wanted to have brie with sliced almonds and butter (melted in a frying pan.)  You microwave the brie after slicing an "X" in the top, and then when it's soft, you take the fried almonds in butter and pour it over the cheese.  Then you take a baguette, slice it about 1/2″ thick and use the slices of bread like a dipping spoon, into the cheese, butter and almonds.  I'm pretty sure it's good for you..and has very few calories.  Actually, I made a fruit salad out of watermelon and bananas so we had something to cut the grease we were eating.  It worked well, and made me feel like we were eating at least one thing that was good for us.
Since St. Maarten is half French, there are a lot of French bakeries around.  If you've ever had their pastries, you'd know why we spend every other day, making a trip to the bakery.  Such wonderful confections, and we're both suckers for sweets, so it's the perfect place for us to visit.   I love almond croissants…LOVE them….can't eat enough of them..and they've been sold out the three times I've been there, so today, I order three to pick up tomorrow…I'll put the extras in the refrigerator, and I know they won't be as good as the fresh one, but at least I'll have some backups for later in the week.
Today, at home, the well drillers came to fix our water problem. We have terrible water in our neighborhood….So much rust in the water, that it clogs the pipes, the hot water tank and the systems we bought to remove the rust.  The truck's been there since before we left home and I knew that today would be a horrible day for the dog's and their anxiety….I have a very very good friend who has always been there for us, and today, she spent the entire day in our basement with our dogs, entertaining them (after she gave them the anxiety medications we had prescribed for Honey.)  She said they took turns laying on her, and with each dog at least 65 pounds, they aren't exactly comfortable to have on your lap.  She would have liked to have taken them to her house, but both dogs are afraid to ride in a car, so that would have made things even harder than they were already.  We got an email from the well repairman, and he said that they had to drill our well deeper, and our water still isn't usable because it's got to clear the rust from it….that could take a day, I guess…..so he'll be back tomorrow and hopefully, the water problem will be behind us, until we have another issue with it in the next few years.  It's one of those ongoing problems that springs up when you least expect it…I'm just sad that we weren't home to be with the dogs and that my friend had to be there in our place.  I felt terrible bringing it up to her, and of course, she immediately volunteered….that's just the kind of great person she is.
Tomorrow is supposed to be a rainy day, but that could mean a passing rain shower or off an on rain…..we'll figure it out as the day progresses.  They'll be cleaning the condo, so we'll have to make ourselves scarce.  As long as I have a book to read, I'm good anywhere.  I've already read two books this trip…..Having a great time on vacation!!